Our Web News and Information page is a place for members to find out the latest about the happenings in The Register. We will update this page as we obtain information that is of interest to our members.
---
Going to GOF Mk 101?
If you are going to GOF Mk 101 don't forget the following:
These items are your responsibility. Make sure to pack them now!
British Sports Car Hall of Fame Induction Ceremony
There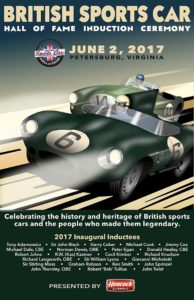 are lots of great British car shows throughout the season and lots of fine car museums. But, every so often people and events and places come together to create a not-to-be-missed opportunity. This is the case with the upcoming Induction Ceremony to the new British Sports Car Hall of Fame that will be held the evening before Moss Motorfest in Petersburg, Virginia.
The event is filling up fast, and the ticket-required ceremony and party are going to sell out soon. Make your plans now, get your tickets, and you won't regret it. Registration for the Friday activities officially closes on May 19, but will likely end earlier if they reach their maximum capacity. And I believe they will.
The new Hall of Fame is being constructed to not only showcase the cars we all know and love, but to highlight and thank the folks who have made this such a great passion. This first ceremony will honor some of the names we all know as well as a few that might be a little less familiar. To that end, we will be posting a series of articles leading up to the induction ceremony that will highlight each of these folk. Watch for them in the coming days and weeks.
As for the awards, Heacock Insurance is the presenting sponsor and each inductee will receive the Moto-Lita Hall of Fame Trophy. This award will honestly be something special.
The British Sportscar Hall of Fame Inducted for 2017
Tony Adamowicz – Although he won enduring fame for winning championships in Trans Am and Formula 5000, he also competed at Le Mans and Daytona, but received his start as one of the first racers employed by Group 44.
Sir John Black – Chairman of Standard-Triumph, helped support Morgan, Swallow and Jaguar production, and responsible for the creation of the TR range.
Gerry Coker – Designer for the Donald Healey Motor Company, he was responsible for the design of the Austin-Healey 100 and Sprite, later joining Chrysler and the Ford Motor Company, where he invented the 3-position tailgate.
Michael Cook – Helped create the image of the great British marques, generated media buzz, launched new models, and publicized racing successes throughout much of the postwar period.
Jimmy Cox – Former engine guru at the MG Development Department responsible for many of the company's racing and record-breaking successes.
Michael Dale, OBE – Retired President of Jaguar North America, he was responsible for the company's activities in the US, Canada, and Mexico. Prior to being named President, he had been responsible for all U.S. Jaguar sales and marketing activities, including advertising and sales promotion.
Norman Dewis, CBE – Chief test driver and development engineer for Jaguar, he also competed at Le Mans and held the World Land Speed Record for a production sports car.
Peter Egan – The British sports car bard, his longtime column at Road & Track gave voice to the enthusiasts during a time of changing tastes and interests.
Donald Healey, CBE – Car designer, rally driver, and speed record holder, noted for his involvement with Riley, Triumph and his involvement with the British Motor Corporation, which resulted in the Austin-Healey marque.
Robert Johns – As an airman in the United States Air Force, he parlayed his amateur success into a position as a Triumph works driver, including stints at the 24 Hours of Le Mans and the 12 Hours of Sebring.
R.W. (Kas) Kastner – From his position as Competition Director for Standard-Triumph in the United States, was the guiding influence and prime instigator for the company's success, essentially writing the book on how to successfully race cars on a budget and setting the standard for others in the industry to follow.
Cecil Kimber – Automotive engineer, famous for his role in the formation and growth of the MG Car Company in Abingdon.
Richard Knudson – Founder of the New England T-Register and one of the guiding lights in the hobby, writing prolifically about the Sacred Octagon and its many accomplishments.
Richard Langworth, CBE – Renowned automotive writer, responsible for some of the definitive marque histories ever published, also a recognized authority on Winston S. Churchill.
Sir William Lyons – Founder of the Swallow Car Company, which later became Jaguar following the war, Lyons was largely responsible for styling many of the firm's most famous creations and helped establish it as one of the world's preeminent marques.
Giovanni Michelotti – Prolific designer, who styled cars for Ferrari, Maserati, BMW and Triumph, designing some of the latter's most successful cars in the postwar era.
Sir Stirling Moss – Described as the greatest Formula One driver to never win a World Championship, he competed in open wheel racing, sports cars, and land speed record vehicles, highlighted by a victory in the 1955 Mille Miglia, considered by many experts to be the greatest one day drive in history.
Graham Robson – Through a number of authoritative volumes on the various British models and marques became the unofficial chronicler of the industry and its history.
Ken Smith – Known as the Dalai Lama of the Sacred Octagon, he is the Editor Emeritus of The MG Driver and was known for his numerous appearances at British car events across the country on behalf of Moss Motors.
John Sprinzel – Won the British Rally Championship and his class at the 12 Hours of Sebring behind the wheel of an Austin-Healey Sprite, one of the best-known racing and rally drivers of his era.
John Thornley, CBE – First Secretary of the MG Car Club, later serving as Director and General Manager of the MG Car Company.
Robert 'Bob' Tullius – Founder of Group 44, he won countless races, several championships and paved the way for sponsorship in modern racing. Undeniably the best known and accomplished American racer of British sports cars.
John Twist – Founder of University Motors in Grand Rapids, Michigan, he is one of the best-known wrenches in the country and a frequent writer on automotive technical subjects, helping to further the hobby by keeping the cars on the road.
Many of these great people are making plans to be at the event. Some, such as Peter Egan, are driving their British sportscars long distances cross-country to attend. The amount of knowledge and experience gathered in one place will be astounding.
The British Sports Car Hall of Fame itself was created last year, primarily by Moss Motors, and continues to develop. The Hall is supported by individual and corporate contributions. It was created to preserve and perpetuate the legacy and impact of these legendary vehicles and to honor the men and women responsible for their success. The goal for the Hall as a whole is to become a sort of British Motor Heritage Museum here in the US. There will be displays of significant cars, a reference library, displays pertinent to the history of British motoring in the US, and of course the Hall of Fame itself.
And just so you know, yes, we the folks from Just British will be at the Induction Ceremony and Moss Motorfest. We will be exhibiting, supporting, and soaking up every bit of British car ambiance we can get hold of. We look forward to seeing you there.
Read the article on Richard Knudson here.
GOF Mk 101 -- Save on Your Adventure to Nova Scotia
We heard of this deal recently and thought that it might be of interest to those who have not booked your ferry passage yet. If you are planning on taking the ferry to Nova Scotia, then look into this deal.
There's no more beautiful backdrop for a coastal getaway than Nova Scotia, and no better way to get there than The CAT. After a short catnap, the ferry will be back in action and ready to give you the chance to experience an adventure of a lifetime—for less!

Book your passage with the Early Booking Bonus and save up to $125 on The CAT:
    Save $75 on one-way passage for two or more adults and one standard vehicle.
    Save $125 on round-trip passage for two or more adults and one standard vehicle.
    Must be booked by April 1, 2017.
    Offer is valid for the 2017 season.
    Offer only available when booked online.
    Offer is in USD.
How to Book
This amazing promotion can be booked online:
Save on your one-way passage using coupon EBO17 or on your round-trip passage using coupon EBR17. The URL is below. Don't forget to check the schedule... the ferry from Portland DOES NOT run on Tuesday June, 27.

https://www.ferries.ca/early-booking-bonus-on-the-cat/
There is no Kimber Fest 2017
Due to some recent technical issues we are forced to postpone the Kimber Fest until 2018. We have people in place to plan a great event for April 2018. Check this website in mid-October for more information.
GOF Mk101 Forms Posted
GOF Mk 101 Registration and Schedule pages are now posted. Read all about the fun things we are planning for GOF Mk 101
Please note that the activities on Thursday and Friday have changed from the TSO printed forms. The web site has the correct activities for each day.
 A new PDF of the registration form is available here: GOF Mk 101 Registration Form
You'll find the forms in the Main Menu>GOF Mk 101
or click on these links:
http://www.nemgtr.org/gof-mk-101/gof-mk-101-schedule.html
http://www.nemgtr.org/gof-mk-101/gof-mk-101-registration.html
2/9/2017
The new ferry schedules and fares are posted. Check them out at http://www.novascotia.com/about-nova-scotia/getting-here/sea/bay-ferries
3/2/2017
All travelers to Canada might want to check with their auto insurance carrier as Canada requires that you have a Canada NON-RESIDENT Insurance  Inter-province Motor vehicle Liability Insurance Card for the vehicle you'll be driving in Canada.  Your insurance carrier usually provides this no charge and all they need to know what dates you will be in Canada.
Special Offer for Insurance Discount
The North American Council of MG Registers has announced a special offering from Hagerty Insurance to all of the members of any of the four North American MG Registers. You can find the offer information in the Member Support>MG Council menu item.  Or click on this link MG Hagerty Discount
T Register member Judy Johnson wins an award

Read about the recent award for long time T Register member Judy Johnson. Click on the following link to access our Member Press Room.
http://www.nemgtr.org/about-us/members-press-room.html
2017 Knudson Churchill Scholarship Forms are now posted
The forms for applying for a Knudson Churchill Scholarship are now available on the website. If you know of someone that could benefit from this scholarship, please direct them to the KCST menu item on this site for all of the information that they need to apply. Applications must be received by March 16, 2017
Do Your Holiday Shopping with the Register
We have posted some Regalia items that are now on "Holiday Sale." Great Christmas gifts for that special MG owner or for those holiday gift swaps. Check it out at
http://www.nemgtr.org/register-marketplace/regalia/regalia-catalog/regalia-christmas-specials.html
Check out our photos from MG 2016
MG 2016 Louisville KY